The Glen Echo Group put on WifiForward's first live summit in two years, "An Inclusive Spectrum Future." Held with much fanfare at the District Architecture Center in downtown Washington, D.C., the event immediately followed June 20th's World Wi-Fi Day.
Speakers, panels and a live demonstration courtesy of HPE focused on the theme of empowering unlicensed spectrum to connect more people in new and accessible ways — particularly the contributions that Wi-Fi and emerging AR and VR technologies can make. Rep. Tony ​​Cárdenas (D-CA-29) and Rep. Morgan Griffith (R-VA-09) opened the summit with recorded video remarks, welcoming participants to the event and congratulating the occasion of World Wi-Fi Day.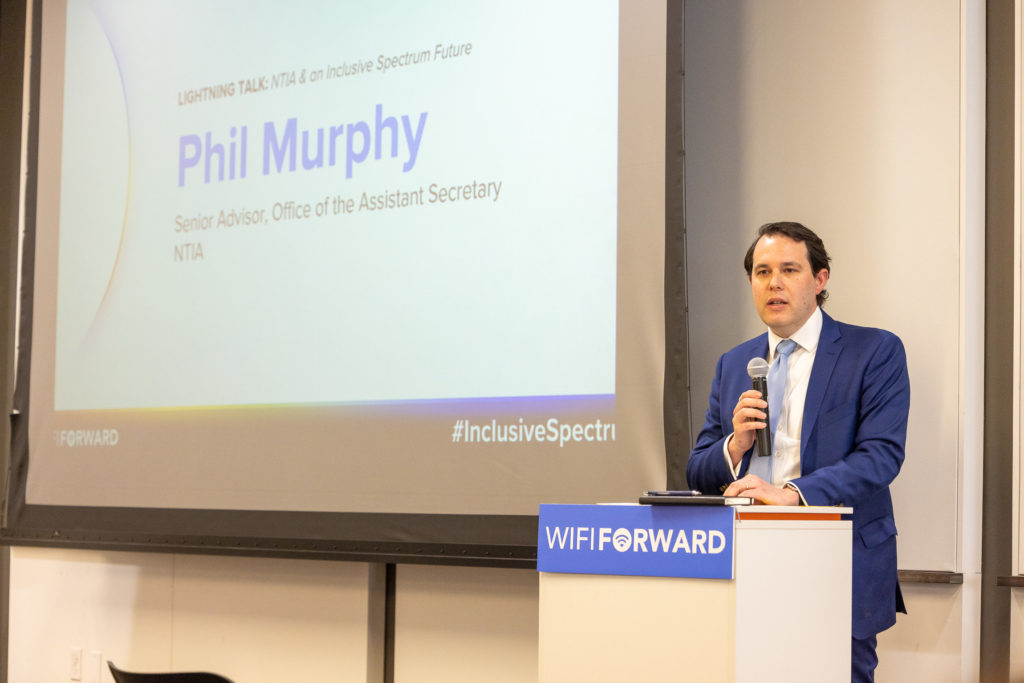 NTIA's Phil Murphy giving a keynote address
Phil Murphy, senior advisor at the NTIA, gave the keynote, "NTIA & an Inclusive Spectrum Future." The Biden administration's national broadband strategy, focused partly on freeing up critically needed spectrum for both licensed and unlicensed use, "will encourage technologies that make wide use of unlicensed bands, including Wi-Fi connectivity," as Christopher Cole paraphrased Murphy explaining, in Law360.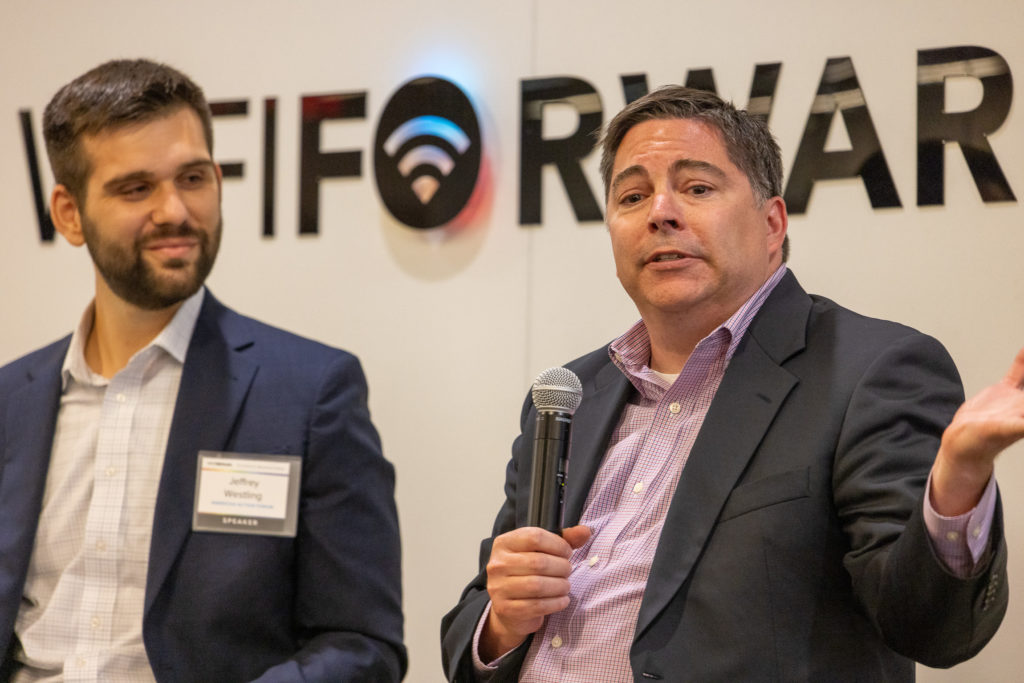 Jeff Westling from American Action Forum, left, talking with Former FCC Cmr. Mike O'Rielly
Also noted by the press were comments from former FCC Commissioner Mike O'Rielly during a fireside chat with Jeff Westling of the American Action Forum. "Given the scarcity of remaining airwaves available for commercial use, the government should be looking at both unlicensed and licensed uses wherever possible," Gabriella Novello wrote of O'Rielly's comments in Communications Daily. "We have to continue the momentum, and it's not either/or," O'Rielly said. "Those days are over in my opinion. "Unlicensed has to be part of that conversation," he added.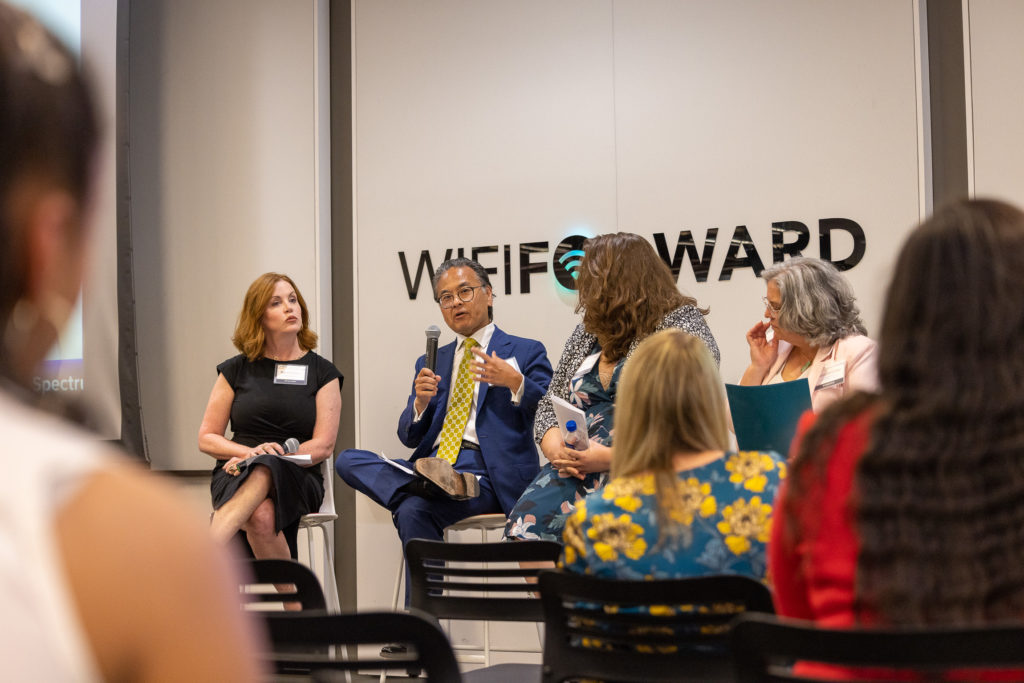 Maura Corbett moderating a panel featuring Alan Inouye, Kathleen Burke, and Deb Collier
Deb Collier of Citizens Against Government Waste, Kathleen Burke of Public Knowledge and Alan Inouye of the American Library Association had a lively discussion about unlicensed spectrum and the digital divide, moderated by Maura Colleton Corbett, CEO & Founder of Glen Echo Group.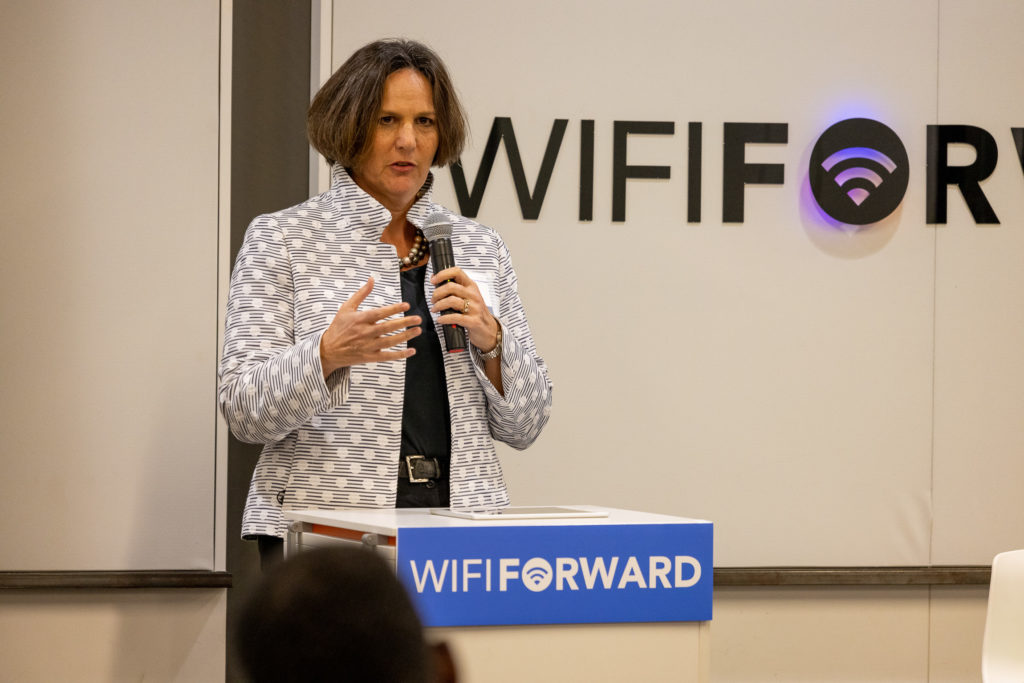 XR Association founder and CEO, Liz Hyman, giving a lightning talk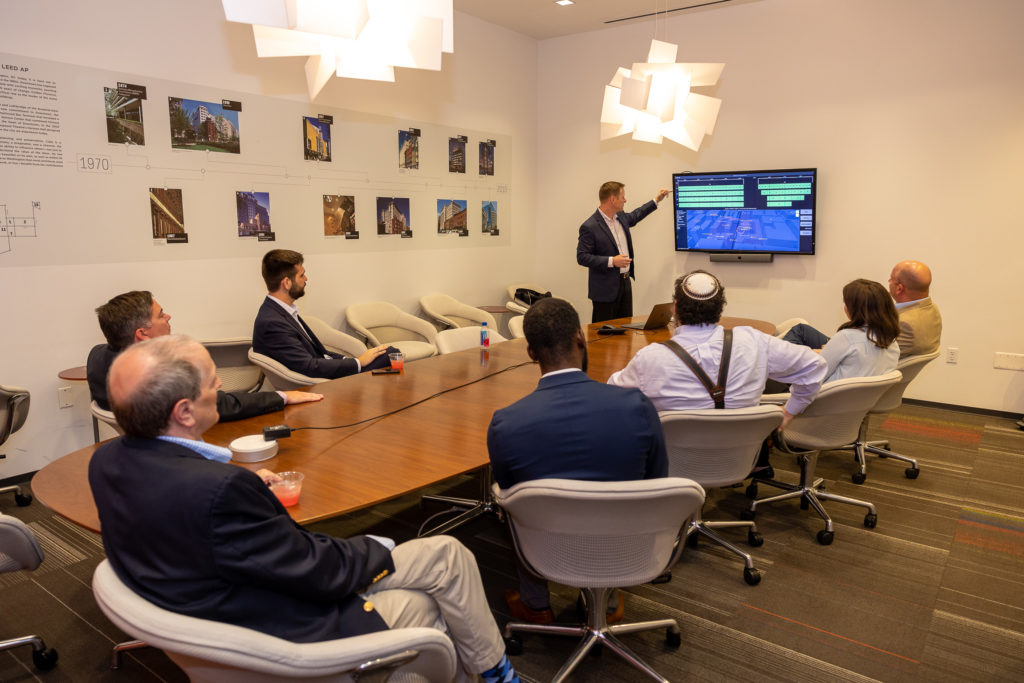 Dave Wright from HPE giving a live demo
Liz Hyman, CEO of the XR Association, gave a talk titled "AR, VR and Beyond, Supercharged by Wi-Fi," highlighting some of the forward momentum AR and VR technologies are making with meeting accessibility needs, and Dave Wright of HPE did a deep dive into 6 GHz enterprise Wi-Fi technologies, complete with a live demonstration. The 2022 Summit closed with the in-person presentation of the second annual Wi-Fi at Work Awards and a reception, complete with bespoke cocktails designed just for the event.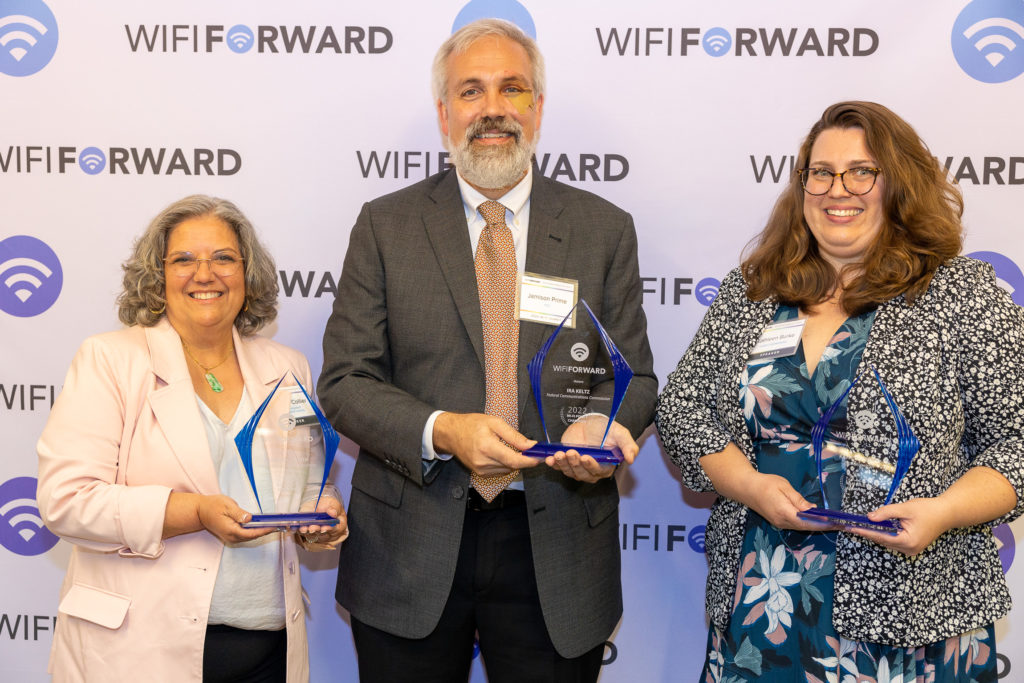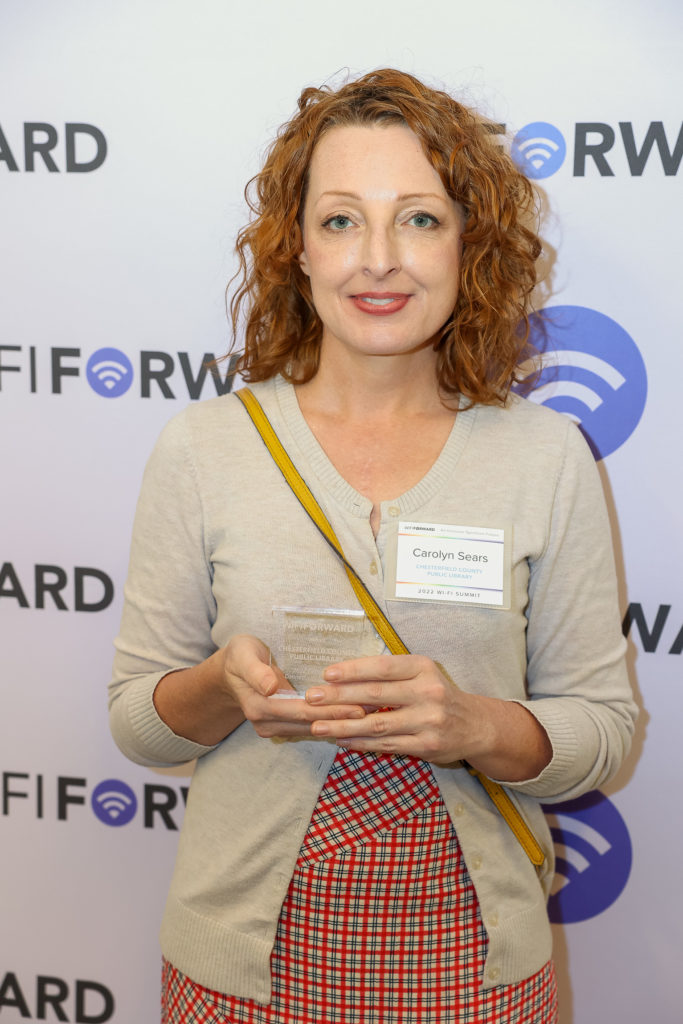 Wi-Fi at Work award winners, from left: Deborah Collier – Citizens Against Government Waste; Jamison Prime on behalf of Ira Keltz – Federal Communications Commission; Kathleen Burke – Public Knowledge; and Carolyn Sears for the Chesterfield County Public Library